Hellhound Leather Co
Regular price
Sale price
$13.00 USD
Unit price
per
Sale
Sold out
Leather scrap remnants that are a byproduct of trimming for the production of leather sales and finished goods.
These leather pieces are steer and bison chrome tan scraps that come in an assorted mix of colors.
Please understand what is pictured is an example of a scrap mix, but every pack will vary based on the colors running through production at that time.
These chrome tan leather scraps are in a 5/6oz weight.
The box you receive will weigh at least 2 lbs total and it will include an assortment of leather colors, and are guaranteed to be all full grain chrome-tanned leathers.

On average, the pieces will have at least 3" square inch area. Please note that scraps have an odd shape and there is no guarantee on shape or size received. You can find clean pieces, but if you are purchasing this item please expect pieces to have scars and/or defects. We cannot accommodate any problems you might have with individual pieces within the mix. While this sounds odd, it's the character of this product.

You will only find full grain leather in our scrap. We do not sell split or synthetic leather.

Our scrap packs have been great for DIY designers looking for leather for:
Jewelry
Leather Earrings
Leather bracelets
Small Leather Goods
Patchwork
Arts and crafts
Leather scrap boxes ship within 3 - 5 business days. 
PRODUCT DETAILS
Leather scraps from a variety of tannerys in chrome-tan leathers  
Scraps will be at least 3" square total area
Colors will be mixed

Our standard weights are in 5/6oz
View full details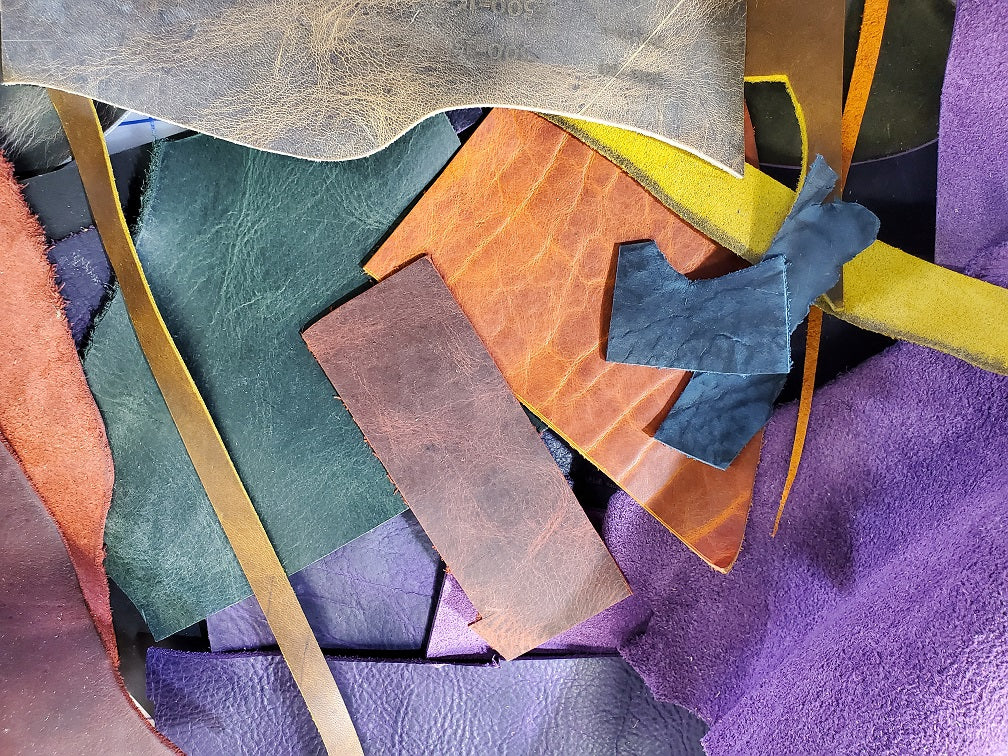 PLEASE READ BEFORE PLACING YOUR ORDER
Fulfillment Time

We are a very small, custom leather shop. All items are made to order so please keep in mind that fulfillment time will be within 3 to 5 business days.