Regular price
$716.00 USD
Regular price
Sale price
$716.00 USD
Unit price
per
Sale
Sold out
Please see belt measurement instructions found at the bottom of this page before ordering. Thank you!
ABOUT THIS RIG:
 While not a historically accurate reproduction, this double holster buscadero drop rig has an unbeatable US Cavalry flair with a solid brass high quality replica Officer's buckle and that classic US army stamp. Boasting fully lined interiors to offer maximum protection for your firearms, these holsters are handmade using 10oz traditionally veg tanned leathers and a 2oz top grain lining for a total durable thickness of 12 ounces. The smooth full grain lining is easy to wipe out to reduce grit and holster wear damage to your firearm. 
Made of the very best top-grade full grain traditionally veg tanned leathers and lined in beautiful Horween nubuck suede, the belt ensures maximum durability, quality and comfort. This classy western-style ranger belt is guaranteed to hold up against years of enjoyment and will last generations - a beautiful gift to pass down to your grandson.
PRODUCT DETAILS:
Premium Quality Veg Tanned Leather, Materials and Craftsmanship
Our leather is sourced from American tanneries- Wickett & Craig Tannery of Pennsylvania, Horween Tannery of Illinois & Hermann Oak Tannery of St. Louis of Missouri
Stitched full length welt to increase holster strength and reduce drag upon draw
Pre-molded for a perfect fit right out of the box

10 oz full grain thickness veg tanned saddle skirt

 

leather
2 1/2 inches wide, lined in premium Horween  nubuck suede

 - color varies based on availability, but will compliment the main belt color you choose

Solid brass replica Officer's Cavalry buckle
18 laced cartridge loops - If you require a different caliber than listed, please contact us and we will be able to help you out


ABOUT OUR PRODUCTS:
Our single action holsters are modeled on the common style used in and around the beginning of the 1870's through the end of the 1890's in the American West. They will fit most single action army or replica firearms for Cowboy Action Shooting sports such as any Colt 1873 Army (Pietta or Uberti models etc), Ruger Vaquero or New Ruger Vaquero. We can also custom build these holsters to fit any revolver.
Hellhound Leather Co gun belts are handcrafted and custom fit to you. We model our gun belt styles on the common western gunbelts of the late 1800s and Hellhound gun belts are crafted from heavy weight veg tanned leather that wont sag over years of use. 
All of our items at Hellhound are works of art that are made to order and handcrafted one at a time in our workshop in Utah.
These are not mass produced or made ahead of time and each rig is carefully hand cut and crafted to fit you and your firearm.
View full details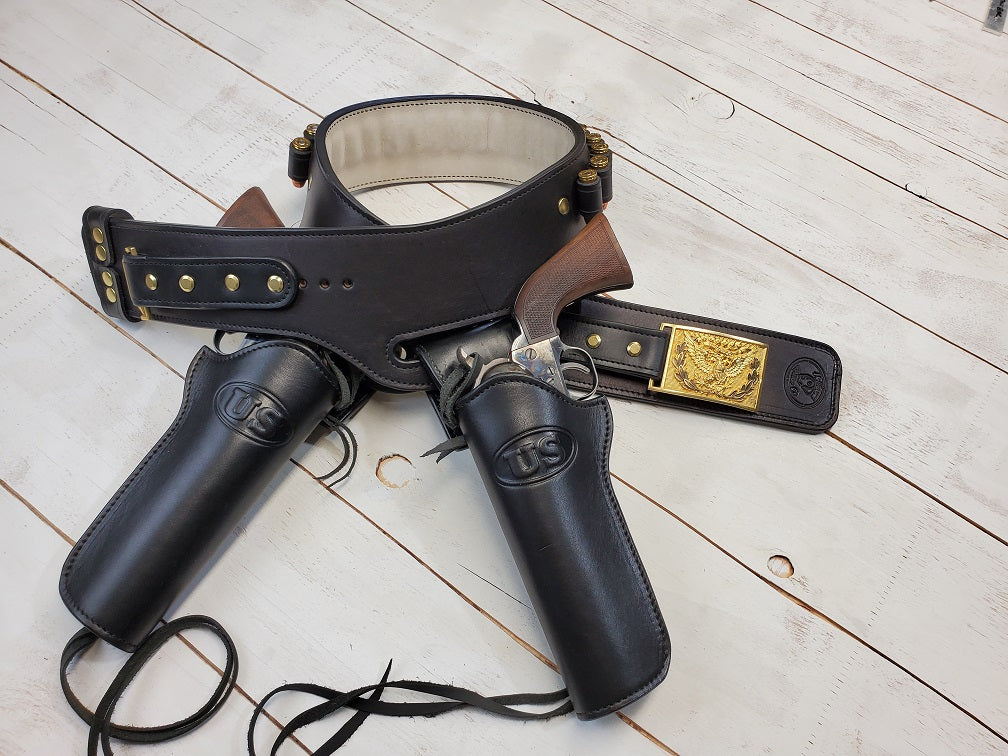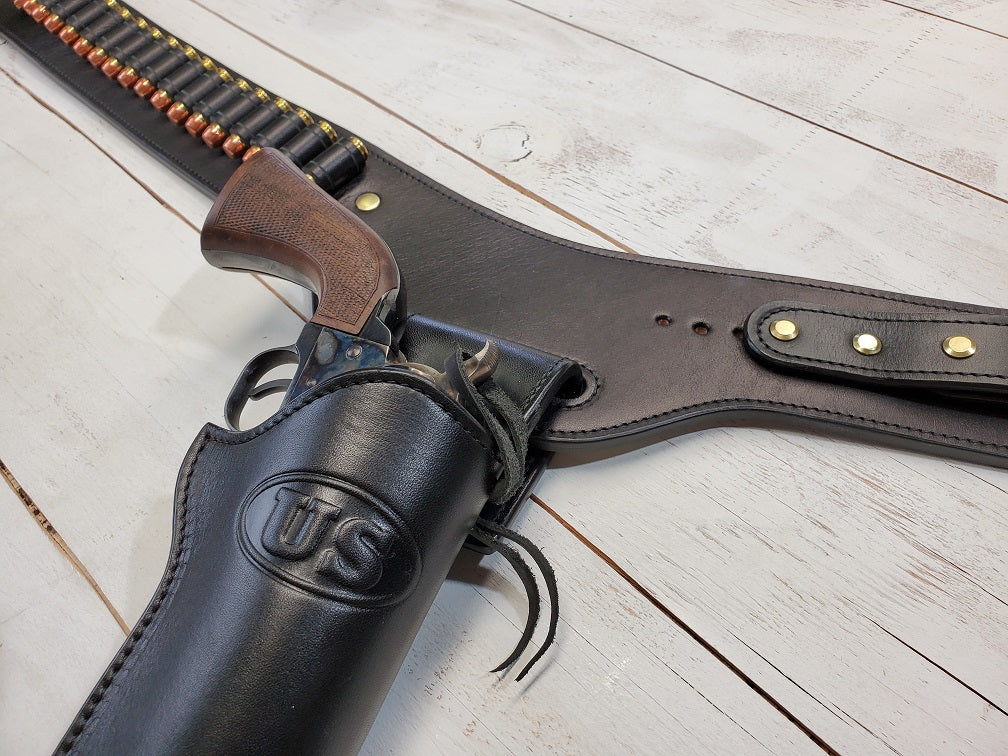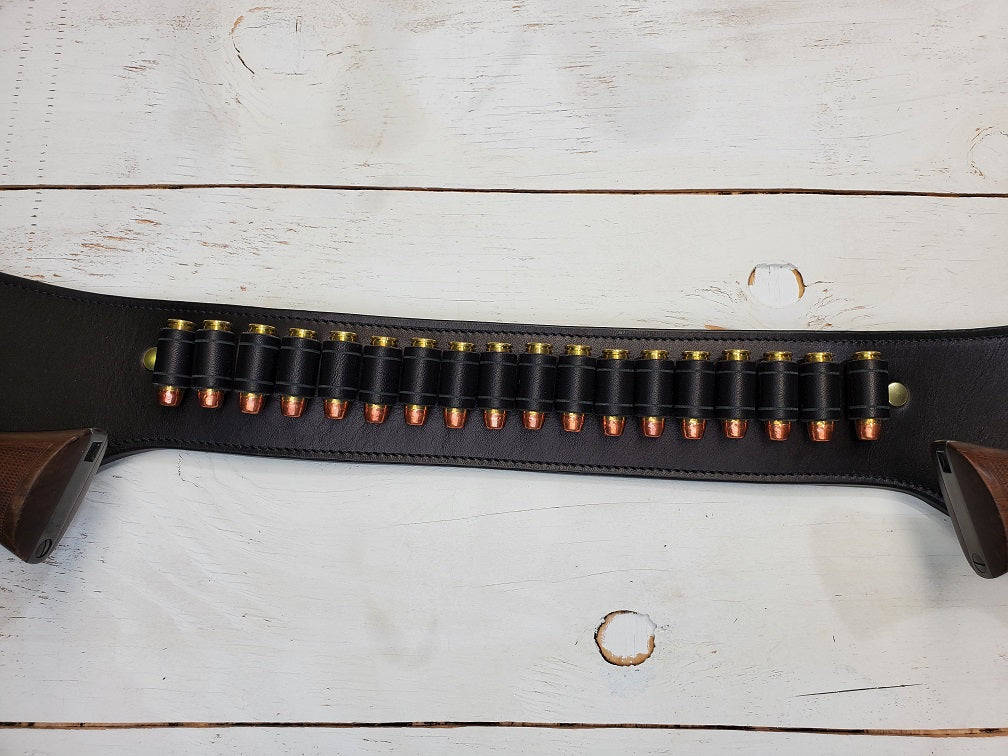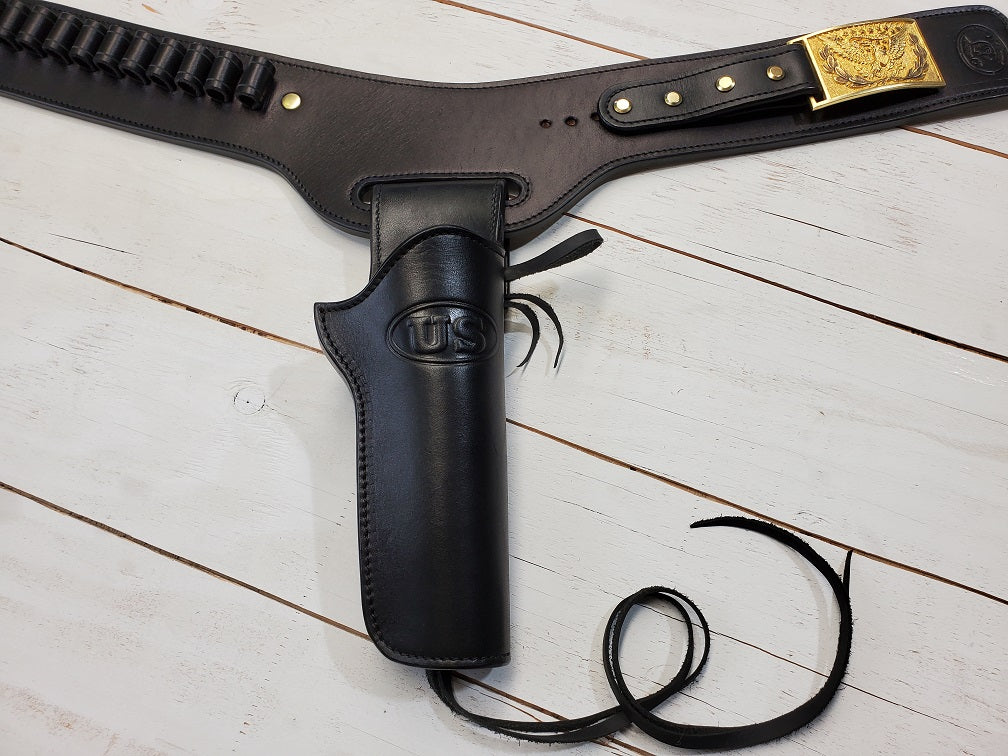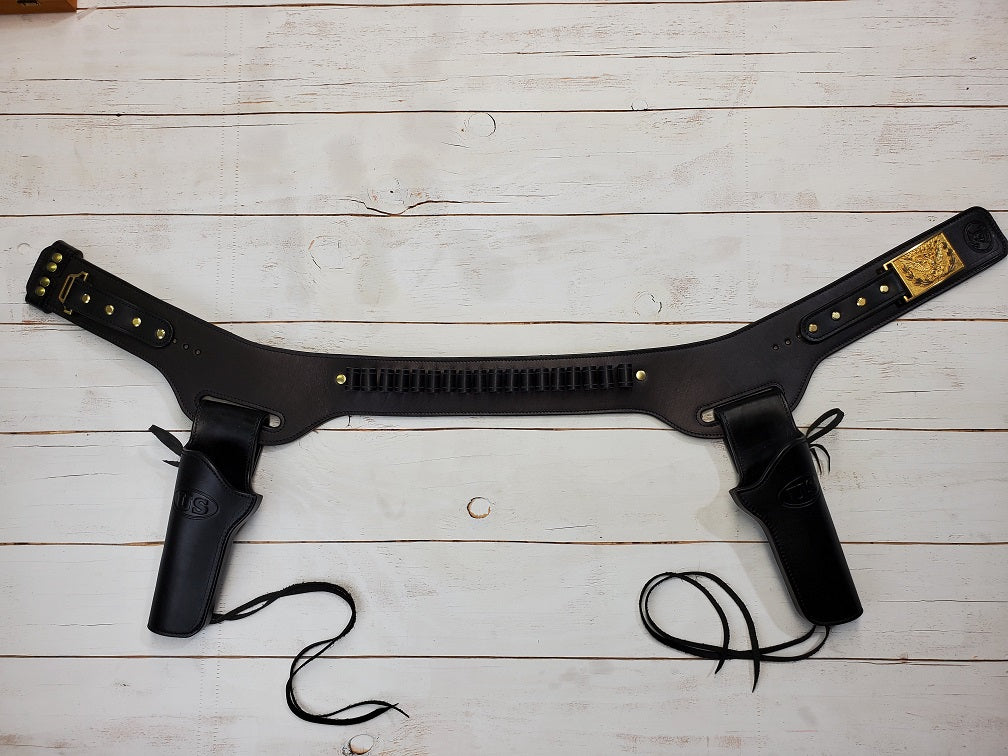 PLEASE READ BEFORE PLACING YOUR ORDER
SIZING INFORMATION

It is very important to provide us with the correct size for your gun belt!

Gun belts are not measured the same as your standard pants belt, so please do not provide us with your pants size or pants belt size.

In order to get the most accurate fit for your gunbelt, we request that you measure yourself so that we can custom fit the belt to you using a "true measurement".

Please follow the directions below in order to provide us with an accurate size so that we can craft a perfectly fitting belt.

Please use a fabric/soft tape measure to measure around yourself, over the clothing you might typically wear with your gunbelt, wherever you plan to wear the belt.
If you're going to wear it down on your hips, measure there.
If you're going to wear it high on the waist, measure there.
If you're going to wear it right over the top of your pants belt, then please measure around yourself over the top of your pants belt.


If we are not provided with an accurate measurement, we cannot craft a correctly fitting belt. If the belt does not fit due to an inaccurate customer measurement, Hellhound is not responsible for the error and you will be charged a recrafting fee for a replacement belt.


If you have any questions regarding measurements, please feel free to call us at 385-707-3751

 
FULFILLMENT TIME

Hellhound gun leathers, belts and holsters, are works of art that are made to order and handcrafted one at a time in our workshop in Utah. These are not mass produced or made ahead of time and each holster is carefully hand cut and crafted to fit your firearm.

We are a very small, custom leather shop and due to high demand, our lead times have increased.

This item is made to order, so crafting and fulfillment time may take up to 20-24 weeks. 
CUSTOMIZATION

**Regarding Cross Draw Holsters**
If you prefer a Cross Draw holster, please be aware that selecting the "Cross Draw" option will slightly alter the holster to accommodate for cross draw carry. The skirt of the holster will be shortened to the collar and widened at the belt loop to reduce twisting. Our standard cant for cross draw holsters is 20 degrees. If you would like more information on how a cross draw holster will appear or if you would like a sharper cant on your holster, please contact us.

We understand that purchasing a holster for your gun is a very personal process and we invite you to contact us with any questions, concerns or custom requests. 

We are happy to take custom orders if you require modifications (such as cant degree or cross draw if you don't prefer a straight drop holster) that we do not list. If you would like to include a slight modification to your holster - Contact us for options!